Free Printable Hebrew Calendar 5775
This is a free Hebrew calendar for year  2015  – 5775. It has the Hebrew dates (in English) and Jewish holidays. Add your own photos, important dates to personalize the calendar!
You can either print the Calendar and then add the photos or use our calendar maker below to add the photos before you print.  You can also add important dates such as birthdays and anniversaries before printing.
September 2014
October 2014
Elul Tishrei
Tishrei – Cheshvan (Heshvan)
November 2014
December 2014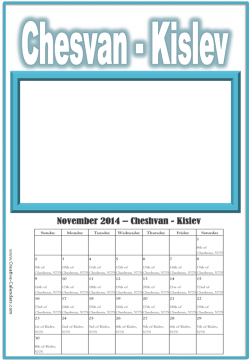 Cheshvan – Kislev
Kislev – Tevet
January 2015
February 2015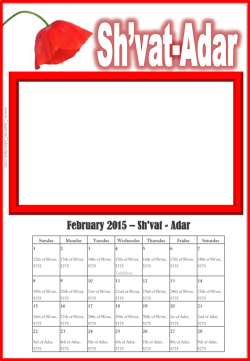 Tever – Sh'vat
Sh'vat – Adar
Adar – Nisan
Nisan – Iyyar
March 2015
April 2015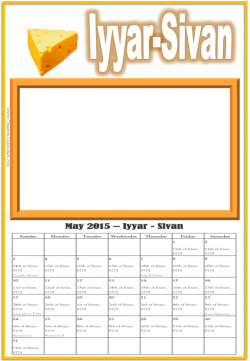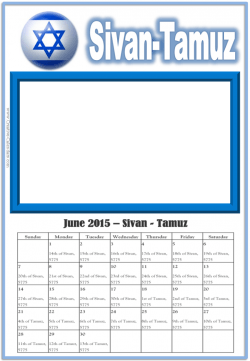 Iyyar – Sivan
Sivan – Tamuz
May 2015
June 2015
Tamuz – Av
Av – Elul
July 2015
August 2015
Elul – Tishrei
Tishrei Cheshvan
September 2015
October 2015
The Days of the Week according to the Hebrew Calendar
Each day starts from sunset and continues until sunset the next day. For that reason, Jewish people start celebrating a Jewish holiday the evening before. For example, the festive meal for Rosh Hashana will take place the night before Rosh Hashana.
The Hebrew calendar has seven days in each week. The name for each day of the week is simply the day number within the week. For example, Sunday is the first day of the week and is therefore called the "first day".
The days of the week are as follows:
1st day – Sunday – יום ראשון (Yom Rishon)
2nd day – Monday – יום שני (Yom Sheni)
3rd day – Tuesday –  יום שלישי (Yom Shlishi)
4th day – Wednesday – יום רביעי (Yom Re'vi'i)
5th day – Thursday – יום חמישי (Yom Hamishi)
6th day – Friday – יום שישי (Yom Shishi)
7th day – Saturday – יום שבת (Yom Shabbat) – the day of rest/the Sabbath day
The Months of the Year
Hebrew Name of the Month
Transliteration
Number of Days in the Month
Jewish Holidays
ניסן
Nissan
30
Passover
אייר
Iyar
29
Lag Ba-omer
סיון
Sivan
30
Shavuot
תמוז
Tammuz
29
17th of Tammuz
אב
Av
30
Tisha B' AvTu B'Av
אלול
Elul
29
תשרי
Tishrei
30
Rosh Hashanah
Yom Kippur
Succot
Simchat Torah
מרחשוון
Marcheshvan / Heshvan
29 or 30
כסלו
Kislev
29 or 30
Hannukah
טבת
Tevet
29
שבט
Shevat
30
Tubishvat
אדר א
Adar 1
30
אדר ב
Adar 2
29
Purim
What is the Hebrew Calendar used for?
The primary purpose is to determine the dates of the Jewish holidays since they are determined according to the Hebrew calendar.
It is also used to determine the yahrtzeit date (which is the day to commemorate the death of a relative).
To determine the daily psalm reading.