Printable Daily Planners
If you're looking for a printable daily planner then you've come to the right place! We offer a variety of daily planners to help get you organized. Each daily planner is used for a different purpose so check out our selection to find one that meets your needs.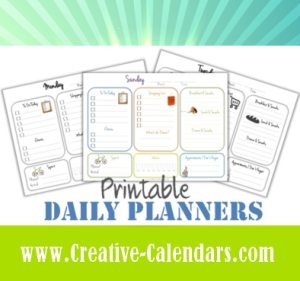 Daily planner template
This daily planner template will help you keep track of your nutrition, how much you drink, your daily chores, your shopping list, to do list and your exercise. It also includes a meal planner to keep track of what you are planning to cook. This will both keep you organized and ensure that you have the necessary ingredients. Nothing will fall between the cracks! You will find yourself becoming more productive than you thought possible!
This daily planner template is available in three different versions. You can even get your daily calendar laminated and reuse it to save paper and ink.
20 Free printable checklist templates to help you conquer your to do list. Each to do list appears on one page but when you print it you can set your printer to determine how many copies are printed per page. Keep track of your task list and get organized!

Print this handy mousepad planner with a calendar, to do list and section for notes.
This is a 14 day daily diet journal to track what you eat, how much water you drink and the sport that you plan to do and actually do.
Each day there are motivational quotes to keep you motivated. This daily planner is perfect for those who want to go on diet or change their lifestyle.